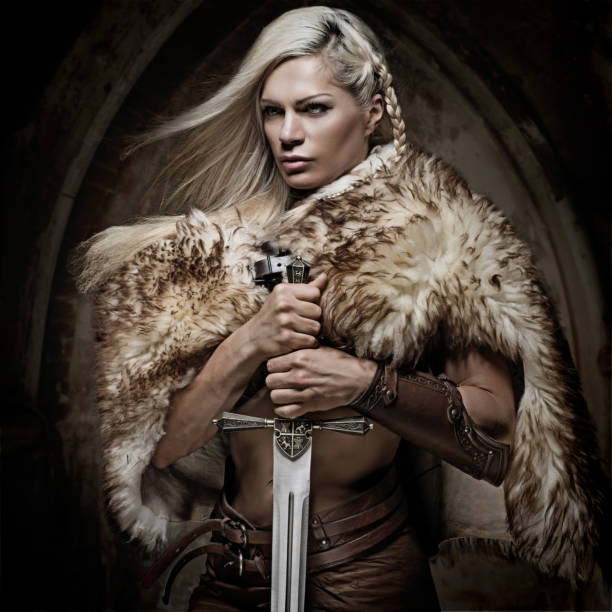 HOW TO IGNITE YOUR FLAMES OF POWER AND DOMINATE YOUR ANXIETY TO BECOME THE MIGHTY K.A.L.I WARRIOR
® (
... AND GET RESULTS...
FAST!
)
Step off the wheel of illusion
Get absolutely clear without fear and doubt.
Get back into true living, and become the Warrior that awaits you.
********WARNING*********
ATTENDING THIS PROGRAM WILL GIVE YOU AMAZING SUPERPOWERS. READ ON:
WHAT DOES IT MEAN TO BE A WARRIOR?
The word warrior is frequently used today to describe a person who is very strong and doesn't give up easily.
Yet, many of us DO!
We quit. We give up easily on ourselves.
Stress can put us in a position of GIVING UP.
This leads to very low esteem, insecurities, and deep rooted fears that trigger Anxiety.
WE ARE STRESSED OUT!
DEPRESSED
SADDENED WITH DARK THOUGHTS
SCARED & FRIGHTENED
CONFUSED
POWER-LESS
Why Is This Happening?
Thoughts. Words. Create Emotions.
We are constantly surrounded by sounds of hurt, pain, stress that at some point we implode and explode with high anxiety that can develop into Generalized Anxiety Disorder aka GAD.
I have been where you are and have experienced extreme anxiety physically, mentally, and emotionally that suicide had crossed my mind at one point in my life, but it was my little girl whose light I saw that gave me the strength to pull up out of that dark pit and SHINE like a Diamond today.
I want to share with you HOW I did this and what skills I learned along the way, and tools I use that has allowed me to stand up on the front line of my life as a WARRIOR....
If this sounds good to you and you want to learn how I did this, and learn the exacts steps I use, plus what tools I implement today, then stick around to sign up for this program.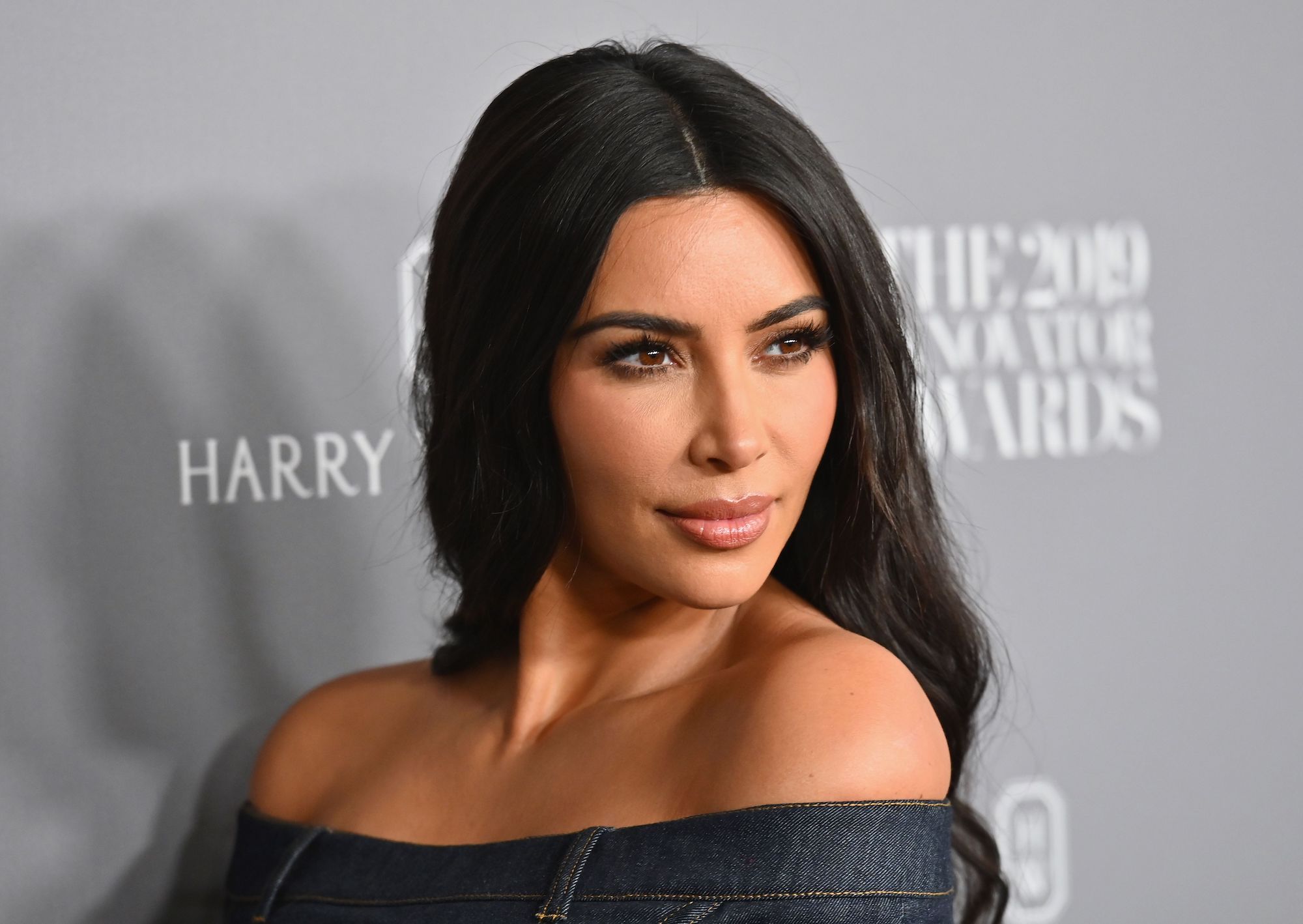 DID YOU KNOW KIM KARDASHIAN WEST SUFFERS FROM ANXIETY?
YES! Her anxiety is heightened when she's behind the wheel of a vehicle. Therapy and other strategies, like breathing exercises, have helped. "I just want to get past my anxiety and live life. … I never had anxiety, and I want to take back my life," she said in one episode of her family's reality television series.
BECOMING THE K.A.L.I WARRIOR
From my book K.A.L.I: Kill Anxiety Live Immensely, birthed this new program, The K.A.L.I WARRIOR PROGRAM.
This program holds the secrets to strategies for defeating anxiety.
This program is your guide to conquering anxiety one episode at a time. With each win, you will establish strength, self-insight, confidence and true empowerment.
The K.A.L.I Warrior Program takes the Kill Anxiety Live Immensely book and breaks down certain chapters into attainable steps, filled with tested tools and a simple blueprint to implement right away, manifesting big shifts of healing into your life.
❌ It's NOT about Popping Pills for a quick fix, yet these teachable secrets will open and align you on the frequency of flow.
❌ It's NOT about Sleeping or Numbing your life away, yet these secrets will supercharge you and fill you with peace, tranquility and a clear mind.
✅ It's ABOUT you tapping into your spark, flowing into your self awareness and becoming the sole Warrior over your anxiety, and over your life.
The benefits of investing in your self goes beyond a price tag. Its a life long value that keeps appreciating over time.
NOW is the best time to heal your anxiety, release your stress, put your fatigue to rest, gain the necessary knowledge and skill sets to stand in your power like a Warrior and take back your life. We have been given a great opportunity, in the mids of chaos, to heal and remove the blockages in our way, learn new strategies to improve our minds and our life as a whole.
It's the perfect time for you.
This program will ensure the results you are looking for.
With Our Help And Support, We Can Help You No Matter What You're Anxiety, Stress Dictates.
The best part?
You don't need ten years to get results.
Free videos and training are NOT enough.
Comprehensive premium programs with inline support and accountability (like this one) is the way.
Hey! You don't know what you don't know. You only see the tip of the iceberg from the outside, and you can't "reverse engineer" this if you don't see the whole picture.
This is why you're not seeing long term Success with just Youtube, free videos and free programs.
THE K.A.L.I WARRIOR PROGRAM IS HERE!
This is the only accessible anxiety-tested and warrior created program for new and longtime clients with As' (anxiety) who want to go from panic attacks, scared of not being good enough, who want their life back, and be more confident and empowered.... while mastering Anxiety at the same time.
This is the BEST version to date, after 1 year of working with over 1000 students and clients, perfecting the program to the STARS..
HERE'S WHAT YOU DON'T NEED...
❌ A basic Anxiety course with things I already give away for free on my Instagram & YouTube channel
❌ An Anxiety-only program that's only going to be worthless if Fear stops existing.
What You DO Need...
❌ A basic Anxiety course with things I already give away for free on my Instagram & YouTube channel
❌ An Anxiety-only program that's only going to be worthless if Fear stops existing.
To attest your anxiety with established wins of strength, self-assured insight, and fast-acting skills that you can apply to healing an Anxiety Episode, and any other types of stress, fatigue, fears, depression/sadness in the future.
✅
Is my signature Anxiety program that helps New and Longtime people of the As' and G.A.D overcome their fears, take back their life, develop their confidence, and to stand up in their power.
Most people aren't transparent about what you'll EXACTLY get in their programs.
Let me skip the summaries and show you exactly what The K.A.L.I WARRIOR PROGRAM is all about.
The
K.A.L.I

Warrior Program Curriculum




STAGE 0: THE SET UP

 New students gathering space
 What Results You Will Receive From Doing This Program?
 How To Use This Program and WIN! Draft
Program Syllabus
PRE- STAGE ASSIGNMENT
STAGE 1: THE ORDER
 In Order To Heal... One Must ACCEPT 
 In Order To Heal... One Must UNDERSTAND
 In Order To Heal... One Must Follow A SUCCESSFUL PATH
STAGE 2: THE STEPS
 Step 1: Swift ACTION!
 Step 2: Breathe IN... Breathe OUT 
Step 2B: Breathing PRACTICE 
 Step 3: Mantra MEDITATION 
 Step 4: Restore Back To POWER 
 Step 5: Live And Become The K.A.L.I WARRIOR
STAGE 3: THE CEREMONY
PRIVATE FACEBOOK COMMUNITY
Spiritual Sessions Academy-
K.A.L.I Warrior Program
PAID MEMBERS ONLY
Group by Najaam P Lee and Najaam P Lee - Team
Ask your questions and get feedback from your peers and fellow coaches! The group is for you to ask questions, post a poll, ask for feedback, and get help when you need it! Plus, you'll meet the most amazing friends and collaborators too.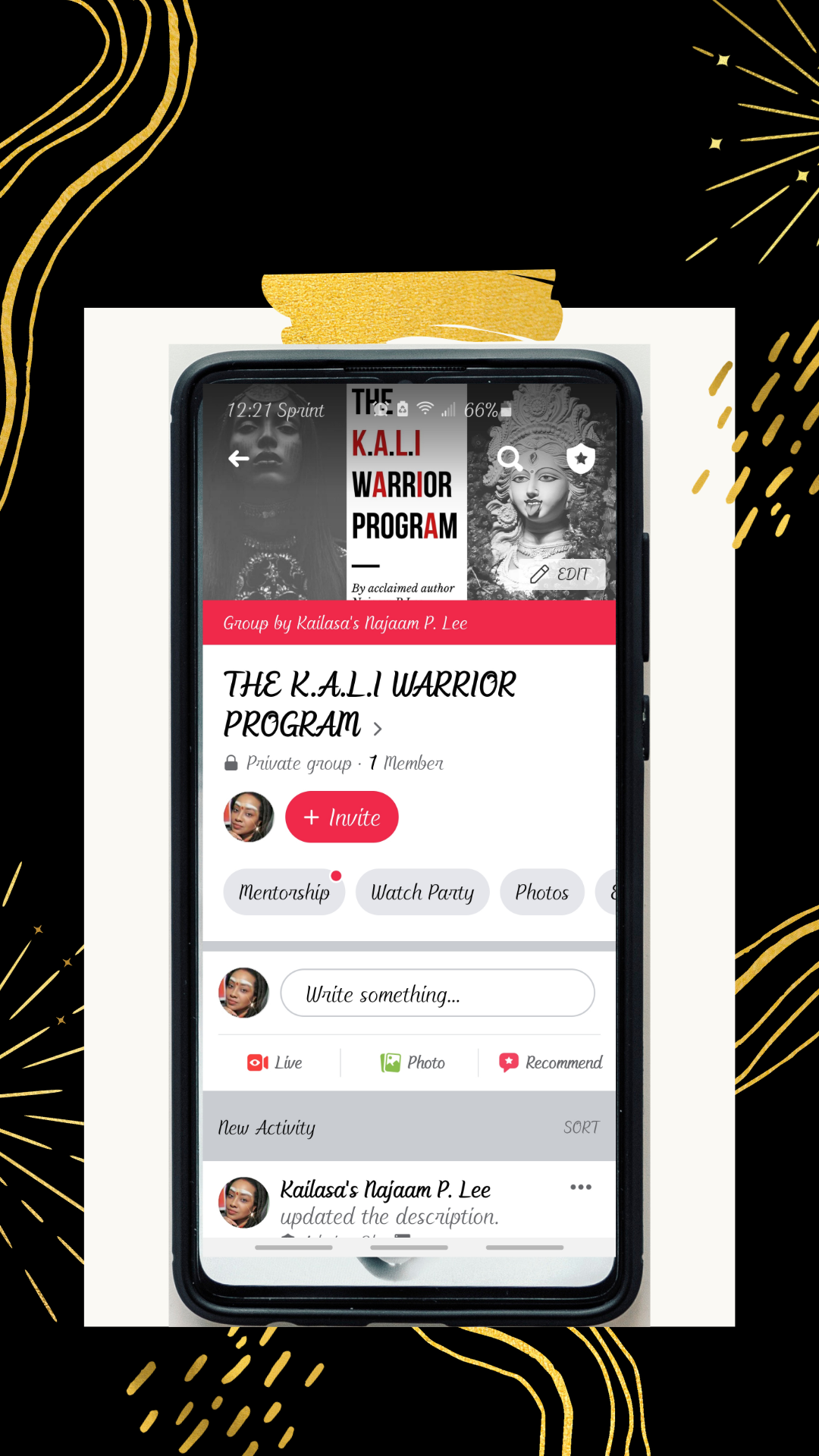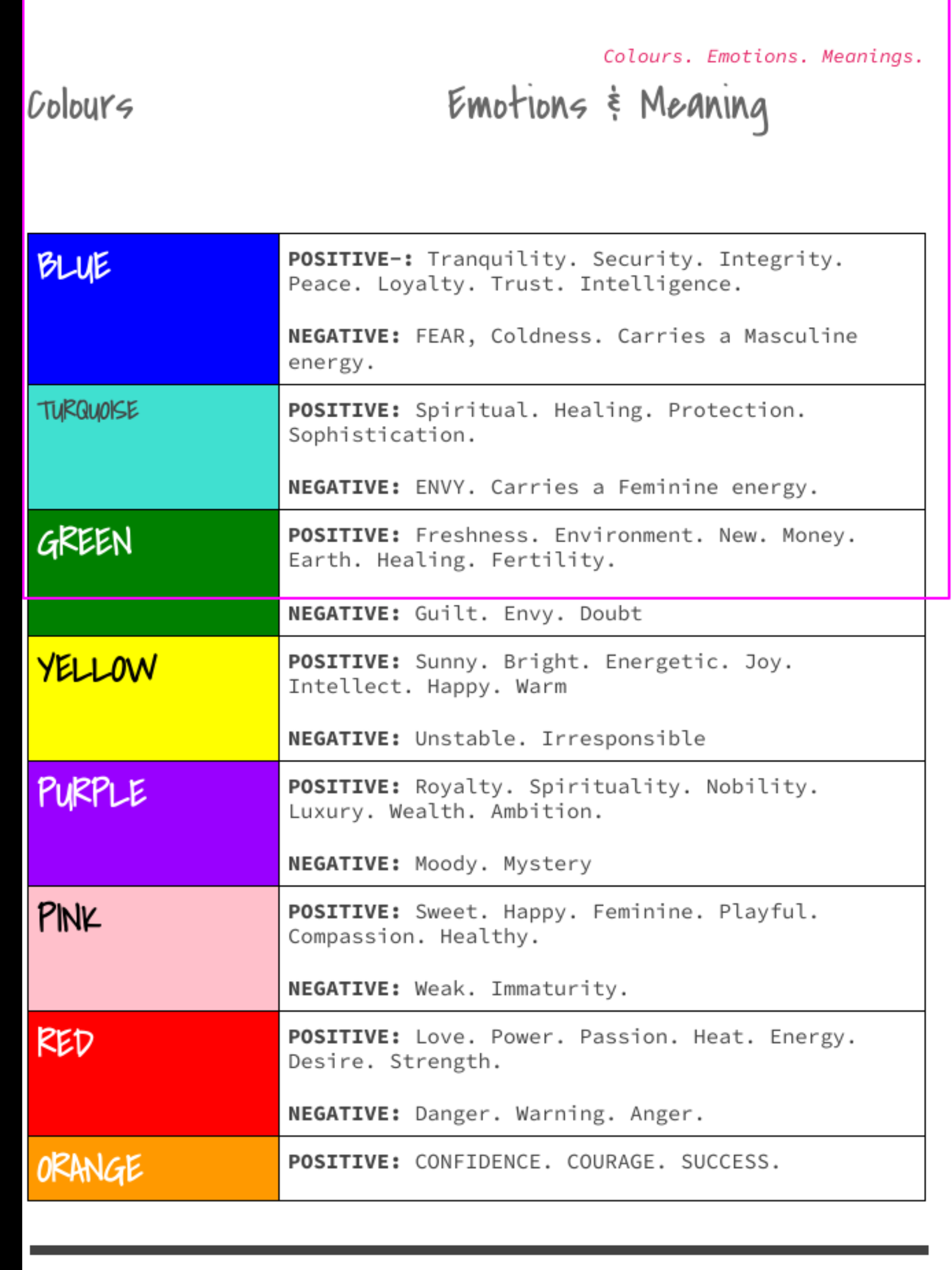 HEALING ANXIETY
with COLOUR THERAPY PDF
VALUE: $350
Receive a 4 page pdf on the use of Colour Therapy for anxiety, stress, depression and overall well being.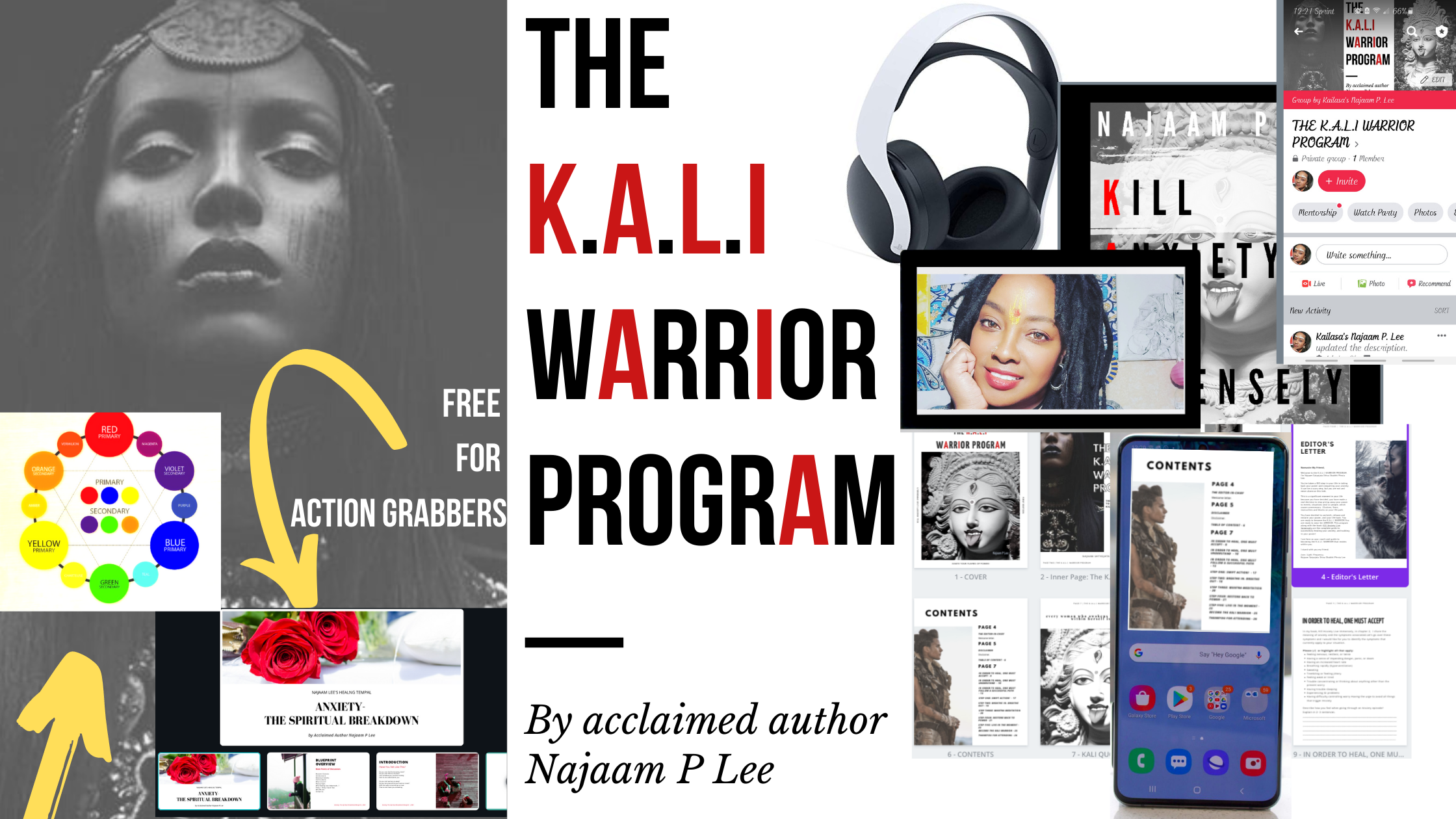 ACCESS TO THE ENTIRE PROGRAM IS VALUED AT OVER $15, 650.
Remember
This isn't just an Anxiety program.
12 MONTH ACCESS TO PROGRAM
The K.A.L.I WARRIOR PROGRAM is a 3 month program designed to get you results in 30 days or less.
WEEK 1 - Facing self to create a stronger foundation.
WEEK 2 - How to shift mind to take action for healing.
WEEK 3 - Implementing a meditative practice.
MONTH 2 and 3 - Ongoing support; Active community.
You will have 12 months of access to this program to look back, re do, or focus more on a particular part, etc...
COMPLETION BONUS
THE K.A.L.I. CLIFF NOTES
VALUE: $500
Email us with proof of completing the program OR share that you've practiced the process for 3 weeks or more and we'll high-five you and hand over a awesomeness completion bonus - The K.A.L.I WARRIOR PROGRAM: Anxiety-The Spiritual Breakdown TM Cliffs Notes . This cool guide will give you a short-and-quickie version of everything you mastered so you can refer to it quickly and easily without having to go through the program all over again.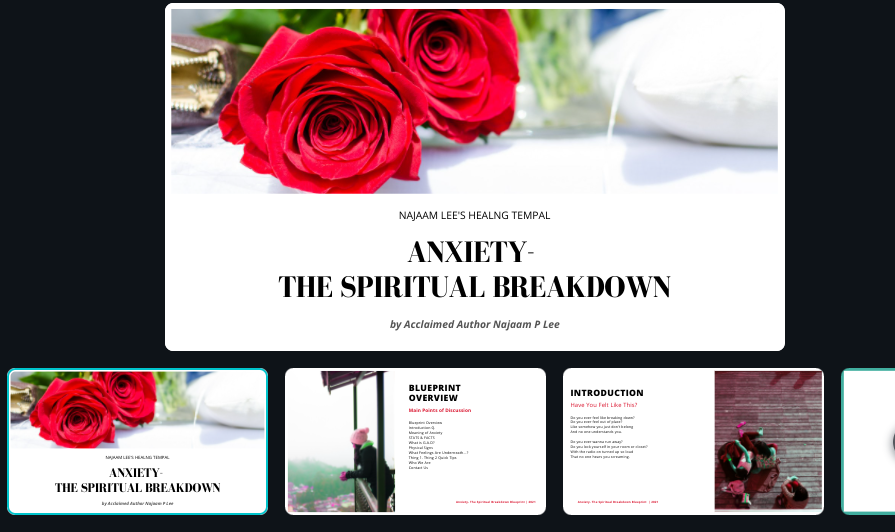 Don't Look Back Or Turn Into A Pillar Of Salt
GET IN NOW!
How to Ignite Your Flames Of POWER and Dominate Your Anxiety to Become the mighty K.A.L.I WARRIOR ® (AND Get Results... FAST!)
INCLUDES:
...6 month access to 12 video lessons, fillable workbook, and audio tutorial to help you through each step of The K.A.L.I WARRIOR program.
... 6 month access to crazy valuable bonuses to give you the full warrior boost you need. We continue to add new bonuses.
... Life Access to the private Facebook community of other K.A.L.I Warriors
Lifetime access to the K.A.L.I WARRIOR Cliffs Notes when you complete the program or share the process you've practice for 3 weeks or more.
All starting TODAY.
GET IN NOW!
ENROLL NOW

It's your time to shine.
It's your time to stand tall and strong.
It's your time to conquer Anxiety.
It's your time to let go of fear, hurt and pain
It's your time to align and step into your true, inner power,
BECOMING THE K.A.L.I WARRIOR
Start Now.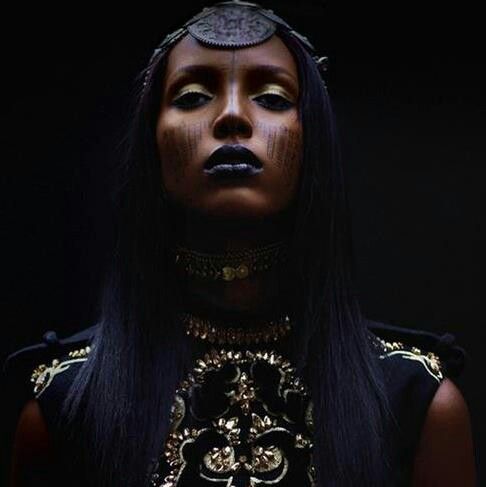 FREQUENTLY ASKED QUESTIONS
Answering your most pending questions.
When does the course start?
The course starts now , as soon as you enroll.
How long do I have access to the course?
After enrolling, you have unlimited 12 months access to this course - across any and all devices you own.
What's in the course?
This course includes
The E-Book: Kill Anxiety Live Immensely
The K.A.L.I. Warrior Workbook
The K.A.L.I. Warrior Program class videos
Heal Anxiety with Colour Therapy- pdf
Anxiety: The Spiritual Breakdown - the KALI Cliff Notes
Meditation audio
Private Facebook Community
Do you accept insurance for this program?
No
Are Refunds Available?
. No Refunds.
What are the advantages of taking classes online?
Convenience and flexibility are the most common advantages of online classes. Taking classes online is ideal for someone who wants to continue working while expanding their life/ and or spiritual growth. Online classes allow you to fit school into your schedule when it's convenient for you.
How much time should I spend on the course?
The time you spend on a class session or practical can vary. Plan to spend 1-4 hours a week on topic, assignment or practical.
The number of credits per class varies by course.
How is the material available online?
Online classes are delivered using a learning management system, called Teachable.com . Students log into Teachable.com and can select their course they registered for. Once a student is in their course site, they can access lectures, PowerPoint, emails, assignments, readings, documents, videos, links, discussion boards, their Advisor.
How do I interact with the instructor?
Students and instructors communicate primarily through course sites and emails and Facebook group.
Is there interaction with other online students?
Through the Private Facebook Group you will develop relationships with other students who are beginning their K.A.L.I WARRIOR PROGRAM. While you may not progress at exactly the same pace as other students as in a true cohort program, you will find yourself among familiar faces throughout your program. There is quite a bit of interaction between other students including group assignments, online discussion forums, online posting boards, reading reflections and class discussions.
What are some of the challenges when taking online classes?
One of the keys to being a successful online student is self-discipline. Because you are not required to be in class at a specific time, you have to be motivated to get the work done on your own. If you have a family and/or a full-time job while you are taking online classes it is important that you establish a schedule of when and how you will get your work done.
If you don't understand an assignment it is important to ask questions for clarification so you don't fall behind. Instructors make themselves available to students via e-mail, comment board, virtual office hours and conference calls.
How are online classes graded? What are instructor's expectations?
Online courses are graded just like classroom courses. High-level critical thinking is required, and students leave the course with an understanding of the subject and an ability to apply their knowledge in a real-world setting. Standard assignments include reading the course text and additional materials, active participation in online discussions, quizzes or tests, writing papers etc.
Are tests available online?
Yes. Many of our courses assign tests. Students may sign an ethical agreement saying they will not copy or share their exam, and that the person taking the test is the person registered for the course. Tests may be timed, and do not typically allow for open-book responses. We Keep An Honour Code.
Are online classes self-paced or scheduled?
Online classes at Spiritual Sessions Academy have both, a specific start and end dates along with due dates for assignments. And some programs are self-paced or independent study.
When can I start taking online classes?
The academic year is composed of three 12-week semesters (fall, spring and summer). New students are admitted each term. See course calendar on page. If doors are closed, sign up to our WaitList.
What technology do I need to be successful?
Students are expected to be confident with their skills regarding standard computer applications for completion of their coursework.
What if I have technological difficulties?
The Help Desk, [email protected] is available most days from 10 a.m. to 7 p.m. EST to address technical problems students may encounter with online classes.


Can I go on vacation while taking an online class?
Online courses require weekly logins and weekly assignment submissions. Students must ensure they are able to meet the course requirements throughout the duration of the course.
Are there specific login or online participation times?
Some of our online classes may include conference calls, online chat rooms that require a specific require commitment. Students should expect weekly due dates for assignments that require them to participate in the online course throughout the week.
How many students are in online courses?
To ensure quality course delivery, online courses have an enrollment of 50 plus.
Popular Features
Check out our featured products and services we offer here:
EXAMPLE